CASE STUDY
Kokuyo Vietnam Trading Co., Ltd.
Managing business activities across Vietnam with BizMobile Go!
2017-05-15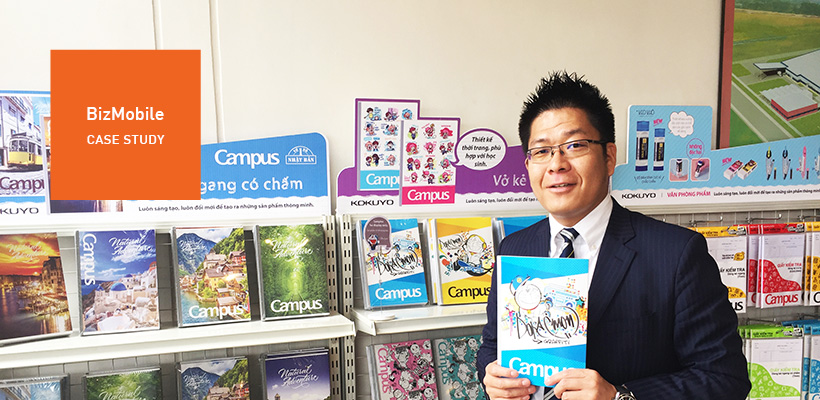 Interviewed
Mr. Hiroyuki Akai, Representative Director,
Kokuyo Vietnam Trading Co., Ltd.

Kokuyo Vietnam Trading Co., Ltd. is a Vietnam-based subsidiary of the famous stationery maker Kokuyo Group, and this case study explains why and how they started to use BizMobile Go! to effectively run their business.
Using Smartphone GPS information to manage business operations
From 2005, the Kokuyo Group expanded their business activities and created a factory in Vietnams Hai Phong, as a manufacturing hub to create files and labels for the Japanese market. Five years later in 2010, Vietnam, with a population of 93 million people and a large segment of young hard-workers, maintained a GDP growth rate of 6% and continued to grow rapidly. Anticipating the potential of Vietnams stationery market, Kokuyo Vietnam Trading Co., Ltd. was established, with a goal to strengthen domestic notebook sales.
Vietnamese people are very education-focussed. With a culture where a single student will consume around 30 notebooks for study per year, the stationery market is very large. Currently, we have approximately 60 sales people based in our offices in Hai Phong, Hanoi, and Ho Chi Minh City, performing business activities for customers throughout Vietnam. said Mr. Hiroyuki Akai, Representative Director, Kokuyo Vietnam Trading Co., Ltd.
The land area of Vietnam is quite large, about 90% that of Japan. Because of this, visiting to a local customers office naturally requires a business trip. With salespeople often going alone on business trips, checking each salespersons activities, for example, whether a salesperson visited scheduled customers, is difficult. To manage the status of sales operations, the company now provides smartphones for the salespeople.
Up until then, salespeople were using their personal phones and the company would pay them a monthly communication allowance, but from December in 2016, we decided to provide our salespeople with smartphones that had an integrated GPS.
Using the GPS information, we could clearly understand who was where and when, but also where they were before that and at what time. Additionally, we thought that being managed in this way itself would have a positive effect on worker behaviour, so based on these observations we decided to introduce the system. said Mr. Akai.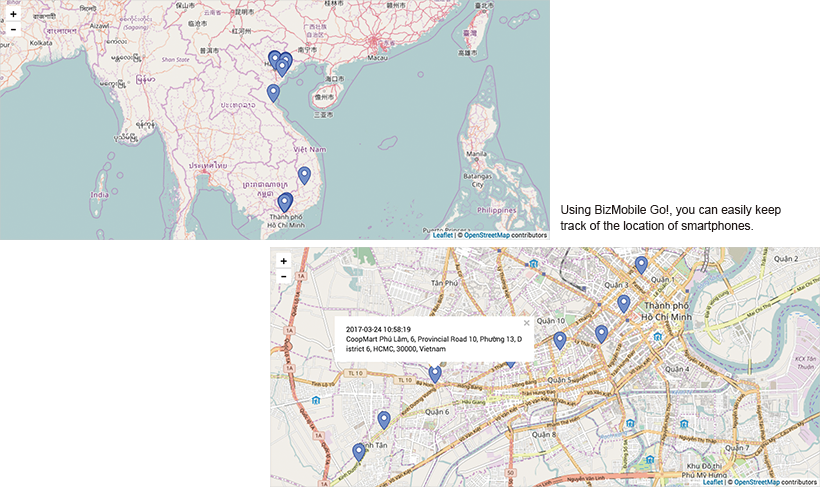 The introduction of smartphones also had an affect on work efficiency
The smartphones that Kokuyo Vietnam Trading Co., Ltd. introduced were Lenovo Android smartphones. At 80 USD per device, these devices were relatively inexpensive. The supervisors (company management) configured the devices to be able to check company emails and also configured other device settings according to the duties of the salesperson.
Until now, in order to check their email, salespeople had to return to the office or go a place where Wi-Fi could be used for PCs, like a cafe. When we introduced the smartphones, salespeople could now check their email while in transit on long distance buses, and work response time became a lot faster. At the same time, we installed Cybozus kintone business management app on the phones. This enabled our workers to make daily reports at any time, from anywhere. This was a big boost in efficiency for both the managers and the people being managed. said Mr. Akai.
Because Cybozus kintone business management software supports Vietnamese in addition to Japanese and English, it is very well suited for managing salespeople who can only speak Vietnamese. In addition to issuing smartphones at the company, the other necessary part was an MDM service. An MDM service that could not only manage the smartphones as company assets, but could also remotely distribute the kintone app and prevent the company provided phones from being used for playing games and other personal use, and also monitor smartphone GPS - the original reason for introducing the phones. That MDM service was BizMobile Go!.
The deciding factors for adoption were GPS management and local support
When Kokuyo Vietnam Trading Co., Ltd. were choosing an MDM service, there were three main reasons that they chose BizMobile Go!. The first reason was that BizMobile Go! is able to manage device GPS information. The second reason was that our salespeople are able to use applications for both of Kokuyo Vietnam Trading Co., Ltd. and its parent company on the same smartphones because BizMobile Go! can be co-installed with the other MDM service deployed by the parent company. The third reason was that full support for BizMobile Go! is provided locally in Vietnam.
For BizMobile Go!, when setting-up devices with Device Owner Mode (the optimal mode for using a company provided device), device kitting (initial configuration) can be easily performed with a provisioning feature that uses NFC (Near Field Communi- cations). However, the devices used by Kokuyo Vietnam Trading Co., Ltd. did not have NFC, so each device had to be connected to a PC to be kitted. This set-up process was performed by the Vietnamese staff of BizMobiles Vietnam partner, Individual Systems Co., Ltd.
BizMobiles focus on Vietnam started in 2013, when BizMobile expanded into Vietnam to develop BizMobile Go!s user interface. In 2014, BizMobile started domestic business operations in Vietnam with a local partner, Individual Systems Co., Ltd. For Kokuyo Vietnam Trading Co., Ltd, the fact that BizMobile is well versed with Vietnams business culture and telecommuni- cations matters was a very big reason for choosing BizMobile Go!.
Further expanding the use of MDM
Normally, the MDM management UI is designed for information system administrators to manage their devices, but this time we received a new request from Kokuyo Vietnam Trading Co., Ltd.
This time, the purpose of introducing an MDM system was to manage our devices, but we also want to manage our sales operations, which is important for us to increase business efficiency and revenue. So, we requested a feature that would allow a manager to check information for only their own subordinates. Additionally, regarding GPS management, currently the serial number of the device is displayed on the map screen, we have requested a change to display the name of the sales person here instead. said Mr. Akai.
This kind of customer feedback, the kind that uniquely applies to the industry of our users, was a great reference for us. Finally, Mr. Akai had this to say about BizMobile.
We would like to use MDM more to be able to manage our sales people more efficiently. BizMobile is the company that is helping to address our needs. We hope BizMobile can continue to grow and provide active support that reflects the voice of our users. said Mr. Akai.
Thank you for taking time out of your busy schedule to talk with us, Mr. Akai. We will continue to match the expectations of our customers.
Kokuyo Vietnam Trading Co., Ltd. Company introduction
Kokuyo Vietnam Trading Co., Ltd started business from 2011, to strengthen domestic sales of notebooks in Vietnam. They are actively conducting business, creating and selling products including notebooks branded with Japanese characters who are also popular in Vietnam, and Kanji study notebooks for people studying Kanji in Vietnam.
KOKUYO VIETNAM TRADING Co., Ltd.
Sales started: April 1, 2011 (Established: November 23, 2010)
Capital: 400 million USD (100% owned by Kokuyo Vietnam Co., Ltd.)
Office location: Nomura-Haiphong IZ, Km13,An Duong Dist., Haiphong City, Vietnam
Management: Hiroyuki Akai, Representative Director
Business: Stationery and office furniture importing, purchasing, and sales in Vietnam
---