CASE STUDY
MEIWA INDUSTRY CO., LTD
MEIWA INDUSTRY CO., LTD Challenges of Mobile Management for Global Business Solved by BizMobile Go!
2017-08-01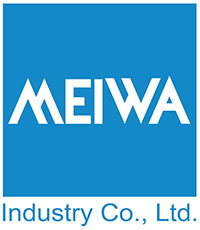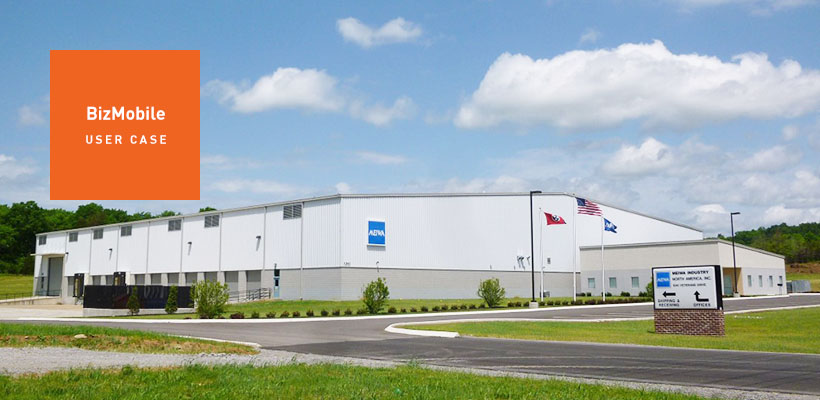 MEIWA INDUSTRY NORTH AMERICA, INC. in Tennessee, USA
MEIWA INDUSTRY CO., LTD is a major automobile interior parts manufacturer, expanding sales offices and manufacturing facilities in 4 different locations worldwide. We interviewed them to ask the reasons why they switched their MDM service to BizMobile Go!.
Tools to connect anywhere in the world, in real-time
MEIWA INDUSTRY CO., LTD has been expanding their business worldwide since 2008 and accounts 90% of their sales from automobile interior parts. In addition to 7 locations in Japan, they have expanded to 15 other locations, including the United States, China, and Thailand. As a means to deal with the challenges faced by global business, such as time zone differences, information transmission time lags due to physical distances, and responding to disasters and emergencies, MEIWA INDUSTRY CO., LTD has distributed iPhones and iPads to employees at all of their worldwide locations. Chief of Information Systems Department for MEIWA INDUSTRY CO., LTD, Satoru Sakai explains, at the time of our global expansion, introducing smart-devices was a management strategy we used to achieve real time communication, without being restricted by time or location. Overseas, those devices are used for translation, safety confirmation, providing parts supply information to our customers at times of disaster, and as a navigation system - which is essential for car-oriented society in America. Smartphones were first introduced to managers and expat workers, and in 2012, iPhones and iPads were introduced. Reasons why iOS devices were selected over Android devices were iOS devices and the OS itself are both made by Apple, and they also provide tools to manage devices, which made it easier for us to implement secure device management. On the other hand, for Android devices there are a wide range of manufacturers and models, and they had a weak impression in terms of OS security. , Mr. Sakai explained. The decision was made based on easier management and operation for iOS devices.
Unexpected miscalculation when introducing the iOS devices
Initially, when MEIWA INDUSTRY CO., LTD introduced iOS devices (provided by a mobile network carrier) in 2012, they used the iPhone Configuration Utility to manage their devices, but soon switched to an MDM system provided by the same mobile carrier, when the number of devices increased and became more difficult to manage. At that time, the MDM system had all the necessary features such as wipe information, device inventory, device location, and remote distribution of profiles. However, as the number of devices increased, it became difficult for us to collect devices to do manual app installation, and the system did not support automatic app updates, so we had to take some measures every time we needed to do those things. Costs, time, and the cost of labor just piled up, especially for devices being used overseas. (Mr. Sakai) Back then, MEIWA INDUSTRY CO., LTD did not have any Mac PCs and had to create configuration profiles using the Windows version of the iPhone Configuration Utility. But the Windows version of the software was never updated, so configuration profiles and apps had to be deployed to devices using the Mac version of Apple Configurator. Their assumption that smartphone management and operation would be easy for the introduced iOS devices was miscalculated.
Deciding factors for choosing BizMobile Go! were the iOS management features and sales representative
MEIWA INDUSTRY CO., LTD was considering switching to another MDM vendor after having trouble with app distribution and automatic app updates on their iOS devices. They consulted with 3-4 vendors and after trialing each of the systems, they decided to switch to BizMobile Go!. Mr. Sakai explained the biggest reasons why they decided to go with BizMobile Go!. One of the biggest reasons is that BizMobile Go! supports iOS device management even if you do not have a Mac PC. BizMobile Go! provides the same iOS configuration profile features provided by Apple Configurator in a web browser, so there is no need to purchase a Mac PC. Another reason was sales representative Mr. T. s sincere attitude towards the project and fantastic support. He was always ready to answer the many questions we had, worked well with our technical team, and supported the creation of a troublesome trial environment for us to use. We tried other MDM vendors for the trial, but none of them were as supportive as he was. (Mr. Sakai)
App distribution and auto update features significantly reduced operational costs
Initially, when new devices were purchased, it took 3-4 hours for MEIWA INDUSTRY CO., LTD to setup each device. After BizMobile Go! was introduced, initial setup time was reduced to less than one hour. Also, a common problem with company- provided devices is that apps cannot be updated automatically and devices have to be collected every time an update is required. BizMobile Go! supports automatic updating of apps, so devices do not need to be collected to perform an app update. This is convenient for device users and reduced the stress of device operations tremendously. Not only were app updates costly and time consuming, but also incredibly inconvenient for users. After switching to BizMobile Go!, we have significantly improved user convenience and operability without changing our level of security. In the future, we hope to use the Per-App VPN feature*1 to safely use company resources, not only for sharing resources, but also for other things like teleconferences, so that we can make better use of our mobile devices. (Mr. Sakai)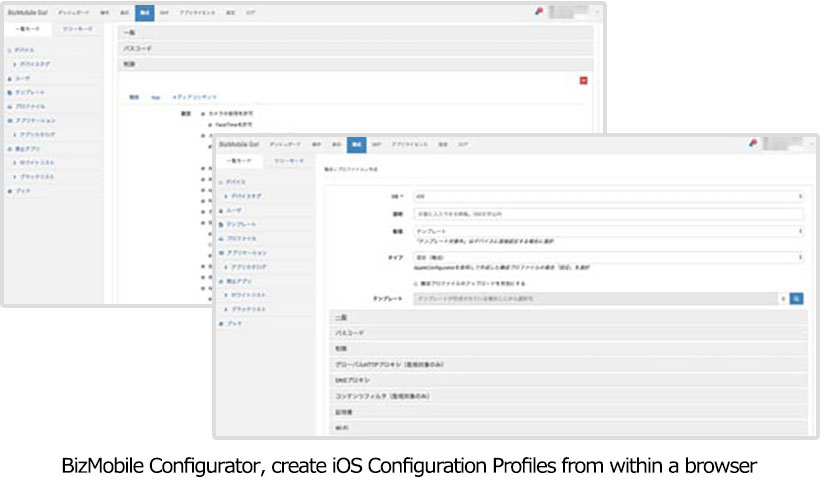 Regarding the BizMobile Go! App Catalog feature*2 , Mr. Sakai rated the feature highly, thinking about ways we can expand device usage, being able to specify apps that will be sent to an individual user, in addition to apps that will be sent to everyone makes this a very useful feature. . They are continuing to find new ways to use MDM for their business. In addition, MEIWA INDUSTRY CO., LTD has requested that BizMobile, hold seminars for companies that use BizMobile Go! to share mobile market information and trends, along with new features on BizMobile Go!, and company vision . We have held sessions for partner companies from time to time, but in future will consider holding seminars for users as well. Mr. Sakai, thank you for taking time out of your busy schedule to talk with us.
*1 Per-App VPN: This feature permits work-related apps to access the company network via VPN, while other apps will have no access to the company network.
*2 App Catalog: Normally, an admin will force mandatory apps to be distributed to all user devices. With the App Catalog feature (optional feature), the admin can register and distribute both "mandatory apps" and "optional apps", users can choose apps which "optional apps" they want to install.
MEIWA INDUSTRY CO., LTD Company Introduction
Since its founding, MEIWA INDUSTRY CO., LTD has been active globally as a specialist in resin processing and compounding for interior parts such as car trunks, floor mats, and roof lining, for more than half a century - alongside the development of motorization in Japan.
MEIWA INDUSTRY CO., LTD
Founded: May 8, 1956
Capital: 2,167 million yen
Headquarter: 3-1-1 Rurie-honatsugi Bldg, Kotobukicho, Atsugi-shi Kanagawa
Management: Kiyoshi Iizuka, Representative Director
Business:Manufacture and sales of automobile interior parts and housing equipment
---